Message from the President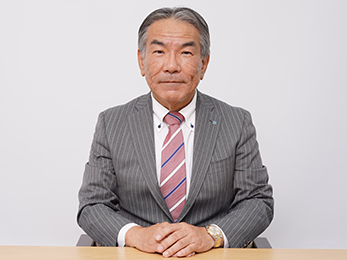 Our company has celebrated our 60th anniversary as of June 1, 2021. We were able to overcome various hardships such as the collapse of Japan's bubble economy, the collapse of Lehman Brothers, and the recession in semiconductor markets to reach this milestone. This was thanks to the support and patronage of our customers and supporters, to whom I would like to extend my heartfelt gratitude.
In order to celebrate our next 60 year anniversary, we are moving speedily towards improvement and revisions to our group operations, to reestablish ourselves as a resilient company that can weather any storm that may come our way.
Our basic policy is to strive to become the "'No.1 Provider in the High Vacuum Field' of semiconductor manufacturing devices", and this field is also the core of our activities. To achieve this new business model, our group needs to further boost the satisfaction of our clients and vendors by maximizing the four functions we have cultivated up to this point: namely, trading business functions, manufacturing functions, service and maintenance functions, and R&D functions.
Furthermore, attention is increasingly being given towards environmental issues, and our group has also been actively promoting SDGs activities. This is true especially for labor-saving equipment such as pneumatic equipment, through which we are making contributions by resolving customer issues with proposals such as reduction of CO2 emissions and energy-saving.
Our group will continue to challenge ourselves in our efforts toward sustainable growth and maximizing corporate value, while responding to the expectations of all our stakeholders and contributing to society.
We look forward to your continued support.
Naigai Tec Corporation
President and Representative Director
Katsuro Iwaida